The Pituitary Program at Florence Neurosurgery and Spine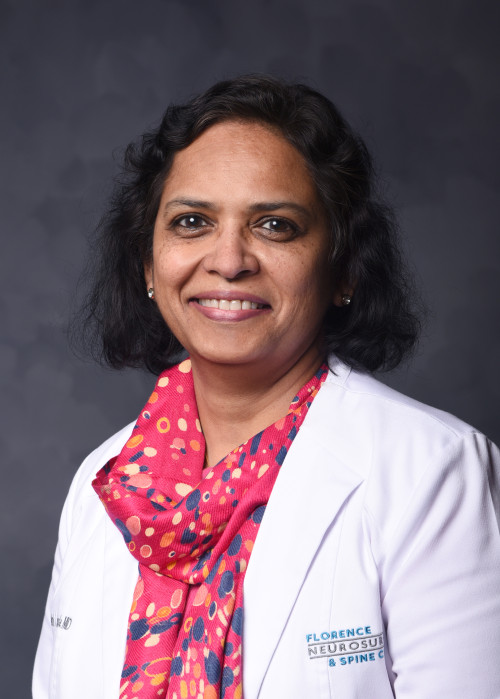 With the addition of Dr. Meenakshi Pande, a fellowship trained Endocrinologist, and Lindsay Powell PA-C, Florence Neurosurgery and Spine continues to expand their Pituitary Tumor program at McLeod Regional Medical Center.
Approximately 10,000 pituitary tumors are newly diagnosed each year in the United States. Pituitary tumors are nearly always benign and may present with hormonal dysfunction, visual loss, headache, cognitive dysfunction and, in rare instances, hemorrhage (pituitary apoplexy). Pituitary adenomas are slow-growing tumors and represent about 10% of primary brain tumors. They are sometimes diagnosed incidentally on an MRI obtained for other reasons.
The workup for a pituitary tumor usually involves sophisticated metabolic and laboratory testing, specialized cranial imaging, and formal ophthalmology evaluation with visual field testing, Consultation with an otolaryngologist (ENT surgeon) is sometimes necessary. Treatment for pituitary tumors may involve surgery, radiation therapy, or medications. On occasion, MRI surveillance and/or no treatment is indicated.
The physicians at Florence Neurosurgery and Spine provide comprehensive surgical and medical services for patients with pituitary tumors-- including microscopic and endoscopic trans-nasal surgery, transcranial surgery, and stereotactic radiosurgery. As well, Florence Neurosurgery and Spine offers comprehensive preoperative, postoperative, and nonoperative medical (endocrine) management of patients with pituitary tumors.
The endocrinology team at Florence Neurosurgery and Spine provides medical management of hormone-producing pituitary tumors, such as prolactin-secreting tumors (prolactinomas), ACTH-producing tumors (Cushing Disease), and growth hormone-secreting tumors (gigantism and acromegaly). As well, our endocrine providers manage hormonal replacement therapy in patients with pituitary insufficiency, including complications associated with hypothyroidism, secondary adrenal insufficiency, and diabetes mellitus.
Dr. Andrew Rhea and Dr. William Naso have been performing pituitary surgery for over 25 years. Dr. Tripp Hines, who joined Florence Neurosurgery and Spine in the summer 2022, is fellowship trained in Functional Neurosurgery and has a special interest in endoscopic trans-nasal pituitary surgery.
Meenakshi Pande MD has provided comprehensive endocrinology services at Florence Neurosurgery and Spine since June 2021. Lindsay Powell PA-C joined Florence Neurosurgery and Spine in June 2022 and specializes in the care of patients with endocrine disorders.
For more information about the Pituitary Program at Florence Neurosurgery and Spine, contact us at…
Florence Neurosurgery & Spine Center
1204 E Cheves Street
Florence, SC 29506
(843) 673-0122